Day 1 - Cutthorpe to Ladybower
30km, 20 hikers

Field paths, roads and moor paths, via Bar Brook, Longshaw, Burbage Brook and Stanage.
I slipped out of the house at six-thirty into the chilly mid-March daybreak. Overnight rain had helped me finalise the detail of my day: I'd avoid the muddy valley paths and go for the better drained uplands, just like the earliest hunter-gatherers, Derbyshire's first summer visitors.
I realised I had a smile on my lips. I felt all the excitement of starting a new adventure, but none of the apprehension that hangs around me during the first few minutes of a multi-day trip, when I wonder what I've forgotten and can't remember switching the lights off. Today would be like any other day, a hike on familiar ground, and because it was Friday I'd finish with a couple of pints and a game of dominos.
It's my good fortune to live within an hour's walk of the Peak District National Park, and in half that time I reached the thousand foot contour. Early sunlight picked out the highest points: far away to my left, the limestone pastures of the White Peak; ahead and closer, the heather and tussocks of the Dark Peak. Lapwing and skylark called reveille above Leash Fen, signalling the start of winter's retreat. Then the curlew sang out its bewitching notes, a cascade of sound that belongs to the ever-moist high moors of spring and summer. It was the first time I'd heard it this year, and I laughed with delight. My adventure had found its signature tune.
In the cold of Longshaw casual strollers exhaled steam, but, sadly, nothing so welcoming emanated from the café: I was a day ahead of its reopening. Two pairs of hikers passed the time of day on the track above Burbage Brook, and a noisy crowd sat at the southernmost trig point on Stanage. Between there and Moscar I saw only a couple of people. The gritstone miles slipped away as the wild panorama of Kinder Scout, Bleaklow and the Howden Moors hinted at hard pleasures held in reserve for my next day out. Briefly I regretted that I wouldn't be spending the night up there and making an early start next day. Only briefly, that is: my pack-toting capabilities are now strictly limited to lightweight, summer camping.
By one o'clock I was supping Barnsley Bitter at the Ladybower Inn and filling my belly with pie and chips. I travelled home by bus and train in time for a shower, a pint of tea and a chat with Julia, then Jennings Bitter and dominos with John, Terry and Walter. I'd made a satisfying start.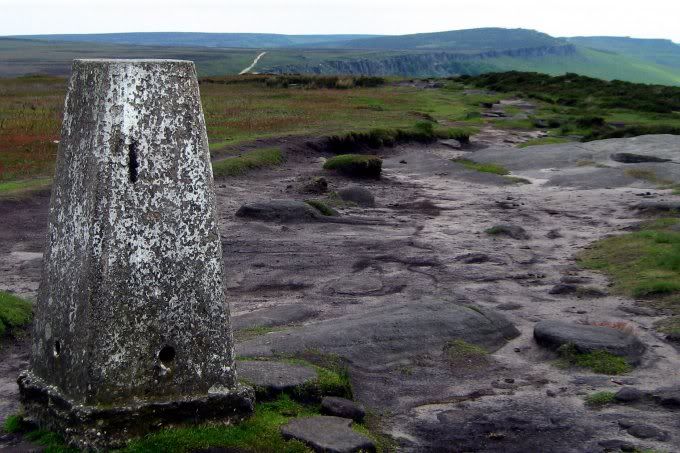 'The gritstone miles slipped away…' Looking south along Stanage