Day 10 - Kettlewell to Hawes
28km, 12 hikers

Field paths to Buckden, an old drove road, a former railway track and a busy main road.
Frost sheathed the tent when the sun woke me at six o' clock. By seven I was on my way out of the village and through the flat meadows. What a great morning: the sounds of woodpeckers and curlew, warming weather, a kingfisher, lambs and ewes, the subdued drone of occasional vehicles across the valley, and still-life reflections in the river.
At Buckden I bought another pork pie, a packet of nuts and raisins, and an apple. The shopkeeper looked as if he'd been turned out of the same mould as the miserable Grassington man. Maybe he was the same man. He and his clone seemed to be modelled on Alec Gilroy, a character from 'Coronation Street' many years ago. I sat on a bench and aired my feet and socks as B&B guests left their lodgings and headed for the Dales Way. I was to see no other walkers all day.
The climb towards Cray was benignly angled, and the view expanded as I sweated my way uphill. Where the gradient eased, a gap in a wall gave access to a level patch of grass on the edge of a steep drop to the valley floor. Despite the passing of more than forty years I recognised it immediately. I'd camped there while backpacking with Alec Marsden and Dave Vowles in the early sixties. I'd woken to brilliant sunshine and emerged from the tent to see the valley filled with thick white mist, right to the toes of my boots. Enthralling though I'd found this natural spectacle, I'd failed to persuade my companions to crawl out of the tent to share the experience.

'Still-life reflections in the river' (Wharfedale)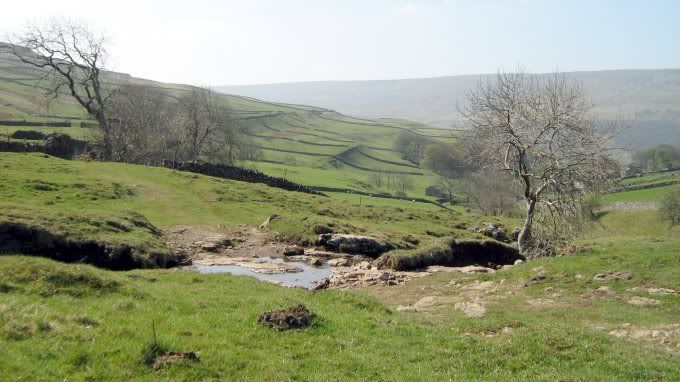 'Geology influences landscape' (between Buckden and Cray)
The route continued along a broad limestone ledge with good examples of the way geology influences landscape, but for me on that day simply a delightful hike. I negotiated a few yards of potentially
hazardous road-walking round a Z-bend on the Kidstones Pass, glad that nothing more dangerous than an ascending masochistic cyclist passed by. An unpaved road climbed onto the silence of Stake Moss. Welcome breezes wafted the scent of moist peat across the fell. I took time out to pitch the tent and dry its melted ice.
There the magic ended. The Stake Moss road turned into a dreary walk across a dull plateau with a dearth of compensating panoramas. Thank goodness the weather was pleasant. I'd pondered long over which route to take out of exquisite Wharfedale, and I spent much of the rest of the day wishing that, instead of Lady Anne's Way, I'd followed the Dales Way to Kidhow Gate and the Pennine Way to Hawes. Ah well, that's all part of my expedition: to see what I find, not to see what I know to be there.
Dropping down towards Bainbridge, the distant fields of Wensleydale looked as if they'd been close-shaven: spring growth hadn't really started during a long spell of dry weather. I felt very weary and decided not to divert north-east to Nappa Hall, another house visited by Lady Anne. Instead I went straight into the village for a brew and a slice of homemade cake. The primary school had just reopened after Easter, and the kids, released from their day at the desk, chased each other screeching round the village green where a dusty coalman and the local nurseryman noisily exchanged news and views. I swigged contentedly at my tea and stretched my tired muscles.
Thus refreshed, I opted for the shortest and least stile-encumbered footpath to Hawes. This started along a former railway track before taking to a lane which eventually offered the choice of field paths via Sedbusk or a bridleway to the A684 via a ford. As the River Ure was low, the short way winked seductively, and I was hooked. I was soon across the water on an unexpected set of stepping stones, only to have to endure main road traffic for about a mile until I pitched at Bainbridge Ings campsite, a welcome and well kept place on the edge of town.
After a shower and a little laundering I felt fit for anything. The evening sun flooded down Wensleydale, lighting the landscape to best effect. I took myself into town for excellent Theakston's ale and a Cumberland sausage dinner. Reflecting on the day, I knew I'd made a couple of duff route selections. More significantly, when feeling tired towards the end I'd lost the plot. I'd failed to engage with the landscape, focussing on reaching Hawes rather than reassessing the day's objective. On the plus side I'd enjoyed wonderful weather, which counts for a heck of a lot.