Day 11 - Hawes to Kirkby Stephen
28km, 4 hikers

Field paths and moorland trail to the River Eden, then more field paths.


Map for days 11 to 15
Another bright and frosty start welcomed me back to consciousness. After packing most of my gear I headed into Hawes for breakfast, trusting the tent would meanwhile shed its moisture. I left town with a slice of flapjack and what later proved to be a superb pork pie. The sun had turned hazy, and the day never developed into the treat it had promised: so much for buying sunscreen.
Lady Anne's Way and the Alternative Pennine Way had flirted with each other from Askrigg to Appersett, and they recombined at Hawes. Ill-defined footpaths took me on a pleasant wander through enclosed pastures and down to the riverside trees, where I continued gently west. At the turn for Cotterdale I joined Lady Anne's Highway, a broad track surfaced at first with crushed stone, making progress easy across the boggy ground that would otherwise have prevailed most of the way to the moor.
I plodded slowly and steadily on the only climb of the day. Views of Wensleydale broadened behind me. As I approached the low limestone crags of Cotter End there was a palpable sense of an impending change in the nature of the route and the day. The wind strengthened. Low cloud and drizzle spread across the landscape. This wasn't good: I was going to miss the breathtaking prospects of Mallerstang Common, its remarkable angularity and its sweeping slopes.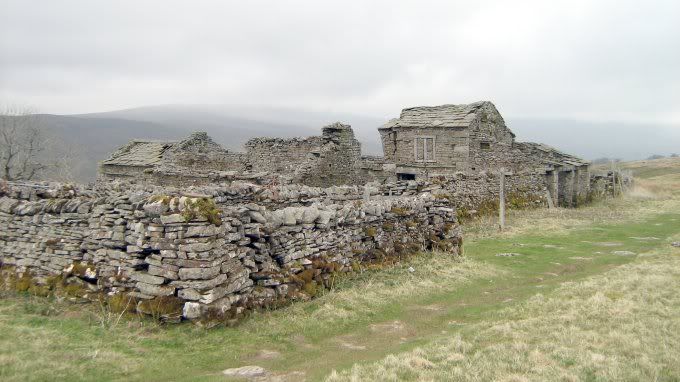 'Derelict buildings…where Lady Anne's carriage used to roll'
Progress was easy, but light drizzle persisted. I marched past derelict buildings, former staging posts and farms on this high level road where Lady Anne's carriage used to roll. I bet she didn't travel in the middle of winter. I passed several notices that told me about vegetal restoration to improve the habitat of the black grouse. It was a far better route than the Stake Moss road, but visibility was disappointing and the wind was chilly. Occasional trains buzzed slowly along the Settle-Carlisle line, far below on the opposite flank of the valley. Curlew called, lapwings mewed. A cyclist sped by on a sweaty gust of wind. Two hikers turned round furtively when I disturbed them fiddling with the zippers of their waterproofs. Sheep stared and scurried. Rabbits abounded. I hummed and sang, happy inside my waterproof hood as the light rain rattled next to my left ear.
The rough road dropped onto a broad limestone shelf, where pale grey outcrops formed a patchwork with short green turf and rank brown grasses rooted in patches of acidic glacial drift. At a deep, dark, narrow, water-worn chasm named Hell Gill, I suppressed a shiver. A grimmer manifestation of nature's cold indifference to the safety of sentient creatures would be hard to visualise. It's no surprise our geography field courses were shepherded here so we could learn and wonder.
At the end of this broad expanse I came upon a striking limestone sculpture, sited on a promontory overlooking my final descent to the River Eden. I felt torn between admiring the skilful rendering of its tall stones, named 'Water Worn', and the feeling that there was no need for such an addition to an already magnificent scene. But to grudge the sculptor a chance to exhibit an appropriate work would be worse than curmudgeonly, and from the foot of the road, looking back, it appeared miniscule and trivial, dwarfed by the mighty fells.
The walk along the valley was easy, through pastures grazed by sheep and cattle. I was feeling tired, a consequence of the long preceding day rather than my current exertions. As I looked back, the clouds were lifting and the upper Eden valley shone in the late sun.


Mallerstang Common emerges from the mist
Aubrietia showed off its rich spring purple on the walls of Pendragon Castle, another of Lady Anne's properties.

Pendragon Castle
I ambled on. Across the valley a school bus deposited a bawling child into the arms of its adult, the forlorn sound filling the dale. Free-range horses clip-clopped elegantly through the shallow river to graze on the common. A picket line of sows slept in the dust, blockading a gate and forcing me to climb over. Just beyond the ruins of Lammerside Castle I had to cross a recently ploughed field, one obstacle I would have bet against encountering anywhere on my trip.
I opted for the Alternative Pennine Way on my approach to Kirkby Stephen. This took me past Wharton Hall, a magnificent residence that showed successive adaptations and extensions from as long ago as the fourteenth century. I wondered if medieval conservatory salesmen cold-called homeowners in those days. Across the river in the village of Nateby I chatted with three young lads who sat on a wall sucking ice lollies. They confirmed my suspicion that the Ordnance Survey map wrongly showed the location of the Kirkby Stephen campsite, and they wanted to know where I'd walked from.
I pitched at the neat and tidy Pennine View campsite, whose only disadvantage is noise from the main road. I was intent on a skirmish round the pubs of Kirkby Stephen when I fell in with a Coast to Coast walker. He hailed from New Mexico and was making for the youth hostel. In the King's Arms, where the landlord lambasted the reduced quality of Black Sheep ale and praised the highly regarded Dent Brewery, I met a Belgian coast-to-coaster, taking a rest day to ease a troublesome leg. In a different pub, the name of which now eludes me, I consumed a bellyful of pasta in the company of a bunch of loquacious Merseysiders who were drinking their way through the long interlude between work and sleep. Further down the bar, a man I marked as a retired farmer was loudly and happily drinking halves of beer and getting, as we used to say in Otley, a bit fresh. I felt contented and tired, and I slept well.