Day 12 - Kirkby Stephen to Brough
9km, no hikers

Field paths.
I woke feeling distinctly below par. I contemplated taking another nap, but in the event I left the tent pitched at the campsite and plodded into town for breakfast at the Pink Geranium café. I couldn't have hiked on with the rucksack, not for love nor money.
A glance at bus timetables showed me an easy option: a walk to Brough and a bus back to Kirkby Stephen. I wandered across the fields on Lady Anne's Way. Not for the first time, I could see this was hardly a popular walk: stiles and signposts were present, but the footpath seemed untrodden.
And that's a pity, because the walk is easy and there are some delightful spots en route. Winton is a quiet village with fine houses that date from times of local economic prosperity, each symbolising the capture of wealth by an individual. Skill, taste and artistry have been lavished on some of these noteworthy structures, carefully adapting them to serve the fashions of the twenty-first century. I wondered what the city whizz-kids were building with their bonuses.
At Belah Scar I strolled past towering trees on low bluffs of red sandstone, a perfect spot to sit and relax on a warm day. Views of the Pennine heights foretold the next major phase of my walk, whenever that might take place. Flowers, lambs and fresh growth in field and forest recalled Browning's poetry:
'O to be in England, now that April's there…'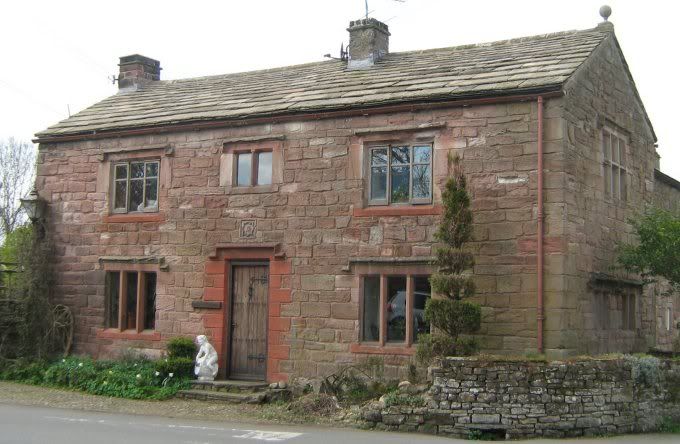 Restored house, Winton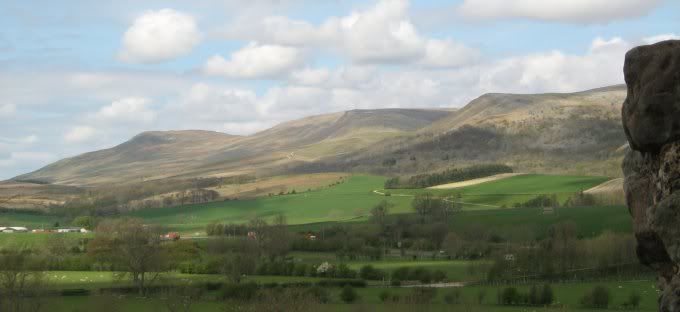 Pennine high-spots glower over the Vale of Eden
In contrast to Winton and, indeed, Kirkby Stephen, Brough exudes hopelessness and decline. It looks like a place that has known busier times, though a former local assures me it has been a down-at-heel place for at least twenty-five years. I walked round the castle ruins: the prospect from its old walls included fine views of the A66 dual carriageway and the town sewage works. I had a pint in the Golden Fleece and sympathised with the young couple who had taken over the licence at the start of the recession. If the town had something as progressive as the Dent Brewery it might start to pick up, but I got a distinct impression that Brough's dynamo had run down.
The three o'clock bus rushed me back to Kirkby Stephen, and I spent the rest of the day in and around the town, including a stroll in delightful Stenkrith Park, where nature has carved the limestone of the river bed into shapes more intriguing to me than the greatest human sculptor's finest works. Dinner in the King's Arms finished my stay on a high.