Day 17 - Haltwhistle to Shitlington Crags
30km, Lots of hikers

Restored footpaths to Hadrian's Wall, Pennine Way to Shitlington Crags.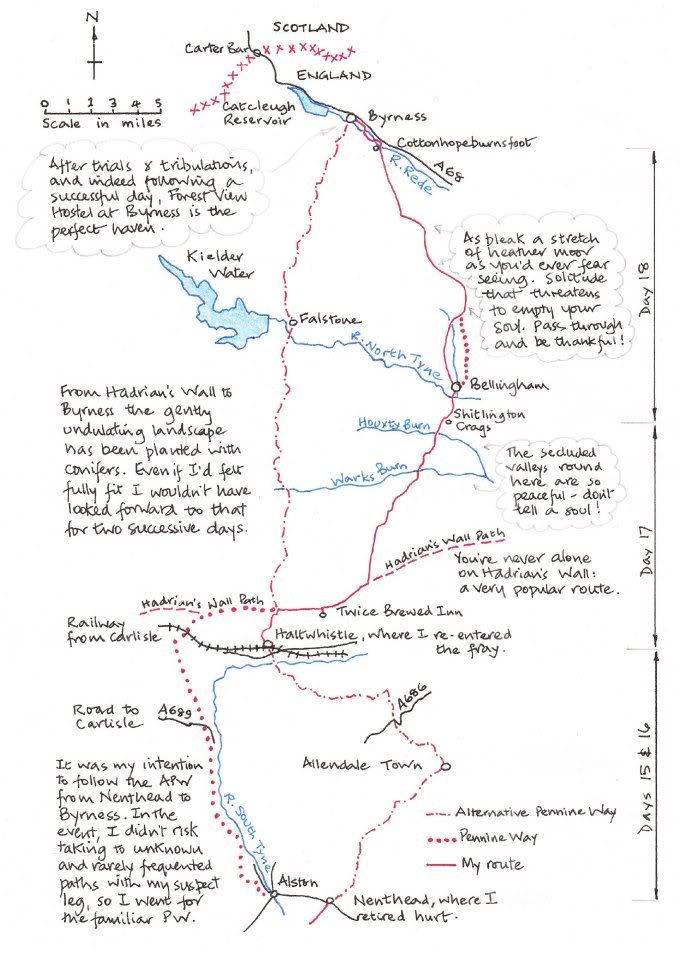 Map for days 16 to 18
After a big breakfast and a chat with guests nearing the end of the Hadrian's Wall Trail, I lugged my pack to the station and joined a mass of passengers heading for the County Show at Corbridge and the seamier attractions of Newcastle upon Tyne. The inane conversations of teenage boys made me realise what a pain in the neck I and my pals must have been fifty years earlier.
I was the only passenger to leave the packed train at Haltwhistle. I extended the trekking poles and set off ever so slowly through the streets, bending my right leg carefully and treating it as gently as I could. The route took me through a wooded gorge beside a stream. The air was pleasantly cool, dappled sunlight patterned the path, and dog-walkers passed by with cheery greetings. Where the trail entered a wildflower meadow I sat on the grass and took a break. I was determined not to hurry.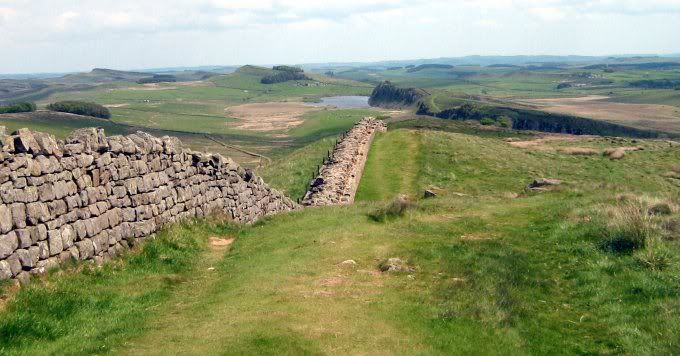 Looking east along Hadrian's Wall
The path beside Hadrian's Wall, which hereabouts is at its most complete, is firm underfoot. It follows the undulating escarpment formed by the dolerite of the Whin Sill, an igneous intrusion that forms crags and waterfalls in the Pennines from Teesdale northwards. I stopped to chat with other walkers, many of them making a complete traverse of the Wall and all claiming to be enjoying it enormously. Most were of my age group and appeared to be going well. For my part, the repetitive rise and fall and reliable underfoot conditions were subjecting my knee to the perfect test.
I felt I was progressing nicely, but a following walker was rapidly catching me up. I stood aside to let her pass, and we exchanged civilities.
Me: How's it going?
Her: Pretty well. I'm not going far today.
Me: I don't think I'm going far either. I've got leg trouble.
Her: Then you're talking to the right person. I'm an osteopath.
I described my symptoms, from which she suspected ligament damage. She told me to put ice on the affected area at the end of the day and then elevate my leg. I thanked her sincerely and instantly felt much more positive.
My target for lunch was the Twice Brewed Inn, near to a camp site and on the bus route should I need to abandon my walk. For the first time ever, my visit wasn't tainted by tobacco smoke or the dust from building works. Trade was brisk, but I seemed to be the only hiker. I sank a couple of pints of the local bitter and worked my way through a gargantuan serving of sausage and mash and mushy peas. As I returned to the Wall, mums and dads were unloading toys and food boxes at the youth hostel. I was happy to have my bivvy bag. With my belly well filled, I was going for broke along the Pennine Way.
I really hadn't expected to be fit enough to make this decision. I knew, however, that just beyond the Wall there were plenty of places to bivouac. What I really wanted, of course, was to go as far as I could. My old demon was goading me again. I had to remind myself to take things steady.
Once I'd left the well-walked path beside the Wall a peaceful solitude spread through and around me. The land rolled gently in unexceptional swells, north of the breaking crest of the Whin Sill. I felt I'd weathered a storm and could relax in calmer waters as I progressed northwards. Afternoon slid slowly into evening while I crossed the grasslands and forests, descending to the Warks Burn and taking a much needed rest. The path climbed steeply up the rough bank and into the fields. At a farm called The Ash a man and dog were nudging a handful of ewes and lambs off the lawn and into a paddock.
'Hello.'
The friendly call came from a woman who was sweeping sheep droppings. I went across to the fence.
'Late for a walk.'
'It's too nice an evening to stop.'
'Going to Bellingham?'
'Mmm. Maybe, but I think I might bivouac at Shitlington Crags.'
'Good for you,' she said with a smile.
We chatted for about ten minutes, in which she learned about my walk and my injury, while I found out she was the District Nurse at Bellingham. She told me to call at the surgery for some Tubigrip if I was in trouble next morning and to say she'd sent me. She filled my water bottles and asked me if I needed anything else. I departed happy at my fortuitous encounters with members of the medical profession.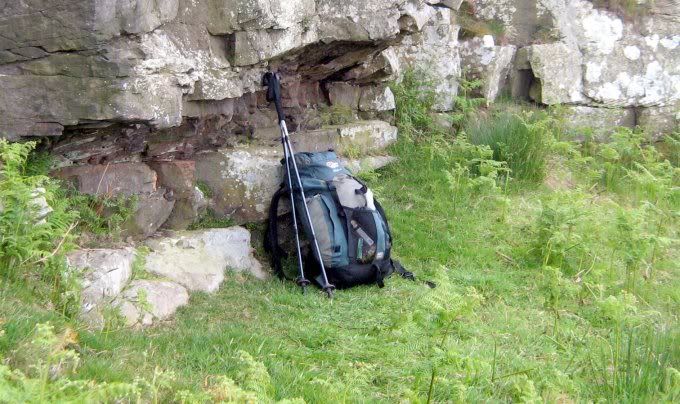 Bivouac site at Shitlington Crags
Under an overhang at Shitlington Crags I rolled out my bed, ate a Mars Bar, watched the light fade over the valley of the Houxty Burn, and nodded off to sleep until about six o'clock.