Day 18 - Shitlington Crags to Byrness
27km, 2 hikers

Pennine Way, roads, and Pennine Way again.
I was quickly away and over Ealingham Rigg, past the doctors' surgery and into the centre of Bellingham by half past seven. For £3.50 the butcher sold me a bottle of water, a bacon cob and a sausage cob which I consumed on a bench as the little community came to life. The baker charged me £1.50 for two slices of sly cake, which is a new name to me: it's an extraordinarily filling currant pasty, and I recommend it highly. I do like Bellingham!
By eight o'clock I'd set off up the road that intersects the Pennine Way. I had to do this because I didn't have a clear memory of its route through the fields immediately north of Bellingham, and I couldn't buy a map in the little town. My tedious plod was the unintended consequence of a weight-saving decision made at home, when I'd cut my old maps into strips and brought only what I thought I'd need for the planned hike on the 'Alternative'.
I duly reconnected with the Pennine Way at the fringe of the bleak moorland traverse of Lough Shaw, Lord's Shaw and Padon Hill. It was hard going, but the suspect knee worked reasonably well.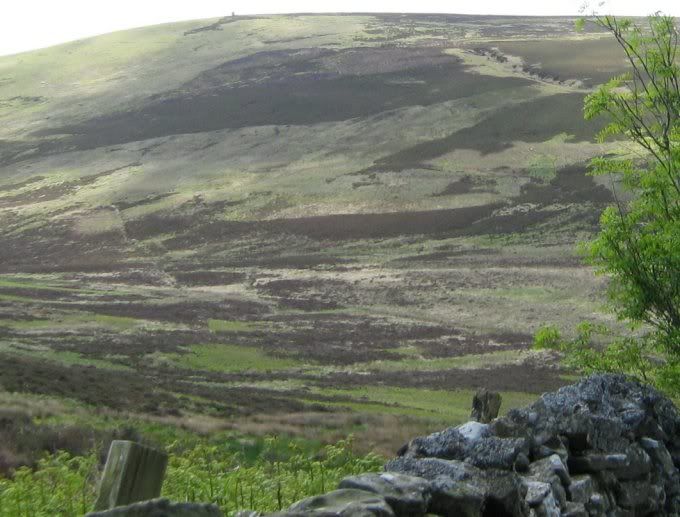 'The bleak moorland traverse' viewed from 'The mucky ascent of Brownrigg Head'
The mucky ascent of Brownrigg Head was as vile as ever, and the trudge across the waterlogged plateau forced me to apply the soldier's dictum, "Switch off brain, Switch on feet". It seemed a much longer haul than on my previous visit nine years earlier. I sighed with relief when I reached a forestry road – yes, it really had been that bad – and I put down my rucksack and ate a snack while an adder slid silently away into the tall grasses.
A vicious hailstorm struck just as I arrived beside the lavatories at Cottonshopeburnfoot, and I sheltered under the projecting roof. I then plodded onwards to the Border Services Café, a modest but highly valued refreshment stop, the only such facility within a stone's throw of the Pennine Way between Bellingham and Kirk Yetholm. There I consumed four mugs of tea and a Border Tart and chatted with a father and son (Kelvin looked about eight years old) hiking from Jedburgh to Cullercoats with only a road atlas for guidance. They were heavily laden, extremely cheerful, their attitude a real tonic, but I think that with a better map they could have found a nicer route.
Forest View hostel was everything I expected. It shows what can be done on small premises with the right management. It is a credit to Joyce and Colin Taylor and an absolute haven for the likes of me. As it happened, I even had a room to myself. After a good dinner with bottled ale there was convivial company for the evening in the shape of an Australian couple who'd followed me from Bellingham.