Day 20 - Melrose to Traquair
28km, 1 hiker

The Southern Upland Way.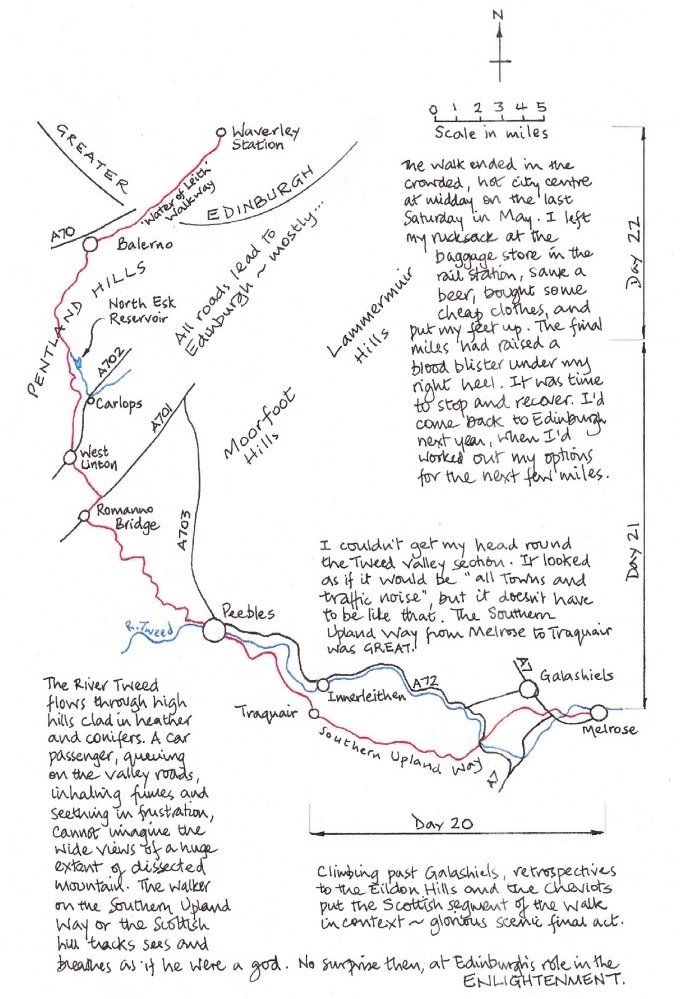 Map for days 20 to 22
The Southern Upland Way, Scotland's official Coast to Coast National Trail which comes complete with acorn emblems on its guideposts, had never appealed to me. I'd prematurely written it off as a trudge across tussocks or a shady ramble through view-blocking conifers. Nevertheless, for this particular day it looked like the best line.
I didn't race away from the tidy little town of Melrose, partly because I had to buy a map but also because I felt jaded by my long walk from Byrness. The shop opened at nine o'clock, and I left town by road instead of the longer path beside the Tweed. Another poor decision!
The climb up Gala Hill was hard in the warm sun. The retrospective views to the Eildon Hills made the effort worthwhile. I took Andy Robinson's advice and short-cut the descent, viewing with dismay the successive climbs that lay ahead. Not for the first time, I doubted if I could make it all the way to my intended destination at Traquair.
I plodded on, calculating that if I moved slowly I might manage the miles. The path climbed across a broad sheep pasture, through a wood, over a breezy sunlit hilltop, and down a wide path into the valley. On a short stretch of main road I saw another walker, a lone woman marching briskly towards me. Thereafter I was on my own with the birds and the insects.
The Southern Upland Way proved perfectly maintained, well signposted, and beneath a sky of patchy cloud and bright sun it offered panoramic views across hill, valley, forest, pasture and plough-land. It was an absolute delight, and I hereby confess my Damascene conversion and my wish to walk it end to end.
The well-graded climb to the cairns known as The Three Brethren led to a firm, undulating path across heather moors. I took regular rests, because every uphill stretch felt tough.
Finally I crossed the highest point at Minch Moor and descended past the Cheese Well spring, a mere trickle and not at all appetising in appearance. The River Tweed far below sparkled in the afternoon sun, and at the foot of the long descent to Traquair I found bed and breakfast in the house of Pat and her husband Brian. She drove me to the Traquair Arms at Innerleithen where I drank some very good Deuchars IPA and ate my fill. The staff phoned for a taxi to return me to my lodgings, where I slept soundly in a double bed in a spacious en-suite room. Bliss!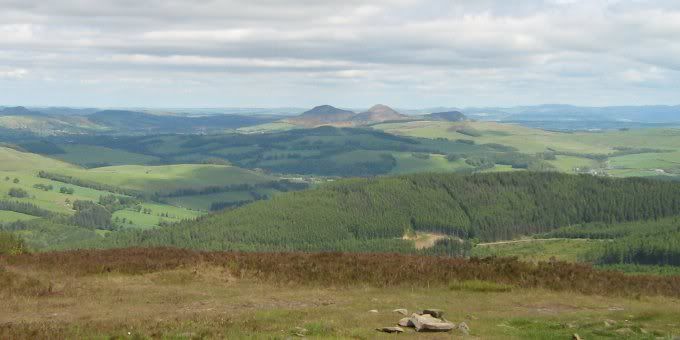 Looking east from The Three Brethren to the Eildon Hills


Looking west from The Three Brethren along the Southern Upland Way