Day 21 - Traquair to Carlops
41km, no hikers

Road to Peebles, hill tracks to Romanno Bridge, road to West Linton, drove road to Carlops.
The day dawned misty, but the sun went rapidly to work. After a substantial breakfast alongside a French-Canadian man who was walking the Southern Upland Way, I had a chat with my host. Brian had worked in muck-shifting, one of his jobs being at Woodall Services on the M1 near Sheffield.
I set off along the road to Peebles in warm conditions. There were off-road options, but they involved unnecessary climbing through forests, and I wanted a gentle start. The downside was that the tarmac was hard on my feet.
At Peebles I bought maps and ate a nourishing lunch of ravioli and ice cream in an Italian restaurant above the pub beside the river bridge. At one o'clock I began slowly wandering along the riverbank and found a shady spot where I sat to digest my meal. Kids played, office walkers ambled by, caravanners hammered in the poles of their stockades, and dogs sniffed and panted. The sun beat down. I wasn't enthusiastic about toting my rucksack up the next hill.
The path climbed past Neidpath Castle, where a piper serenaded the tourists. I crossed the golf course into a wood that led to upland pastures, and there a welcome breeze cooled my sweating body. The path ended, but visibility was excellent and Andy Robinson's way to Clock Howe was easy to detect. It would be trickier in mist. I rested on the hilltop and aired my socks and feet before the steep descent through heather and bracken to a popular roadside parking area between the rounded hills of Black Meldon and White Meldon.

The upland pastures where 'a welcome breeze cooled my sweating body'
My way took me into woodland on an informal path, followed by a forestry road that led pleasantly to the small settlement of Harehope. I crossed a sheep field and re-entered the forest to climb steeply up a grassy firebreak. From the top of Harehope Hill another forestry road took me to the end of the trees. Ahead lay a grazed landscape of rounded hills enclosing a deep valley that I had to cross. Beyond, I could see a broader basin and then the Pentland Hills, my objective for the night.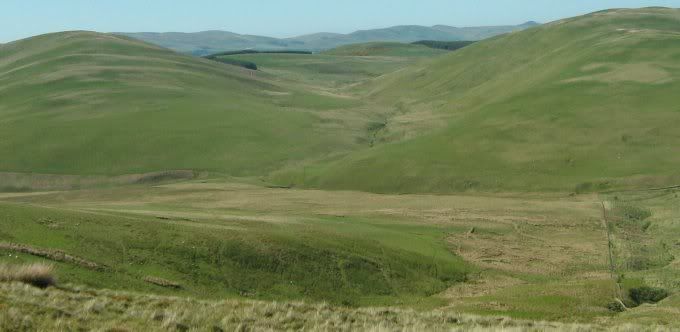 'A grazed landscape of rounded hills enclosing a deep valley'
The walking was good but demanded concentration where trackless. It was better where the route followed an old drove road or other hill track. I stopped to fill my bottle at a stream, where I cooled my feet before crossing the hill to Romanno Bridge.
I'd tried over the preceding weeks to visualise the topography and the settlements in this area, but with nothing better than a road atlas I hadn't been successful. I took to the tarmac to reach the cute and up-market village of West Linton, where, at a quarter to eight, I was surprised and delighted to find the shop still open. I bought extra snacks for supper and breakfast and headed out to the drove road as the sun sank behind the skyline. At Carlops, where the smell of a barbecue and the sound of a family at play filled the air, I climbed into the Pentland Hills.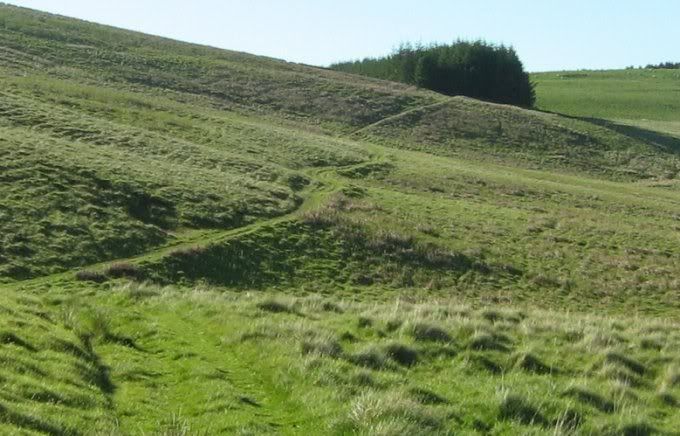 'Crossing the hill to Romanno Bridge'
I was aiming for North Esk Reservoir. The map showed a small wood which might prove suitable for a bivouac. I crossed a broad expanse of cattle-grazed rough pasture to the shrieking accompaniment of thousands of black-headed gulls that had homed in on an island in the reservoir. That was no place for a night's sleep. I pushed on up the hill and crossed a stream that flowed into the reservoir. Higher on the slope to my right was a ruined sheepfold, and nearby I saw a welcoming patch of grass. I rolled out my bed, ate a sandwich, drank some water and slipped into unconsciousness. Back in Cutthorpe it was domino time.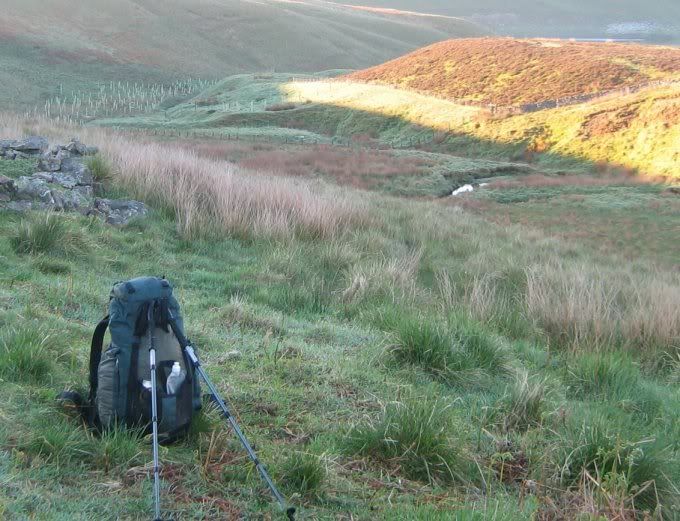 'I saw a welcoming patch of grass' (Bivouac site above North Esk Reservoir)