Day 22 - Carlops to Edinburgh
24km, Lots of strollers

Hill tracks, farm roads, metalled roads and the Water of Leith Walkway.
I woke to see sunlight on the far hillside and heavy dew on my bivvy bag. After a strange breakfast of cold porridge with dates followed by a cheese sandwich, I was away up the narrow valley on an easy path, chilly fingers gripping the trekking poles. By six o'clock I'd reached the col, shown on the map as being near The Bore Stane. The sun was now shining on me in every sense.
I picked out the Firth of Forth, the iconic cantilever arches of the Forth Rail Bridge, and the West Lomond Hills beyond Loch Leven. Edinburgh was unidentifiable in the early haze. The descent was gentle, and by the time I reached the Co-op shop in posh Balerno the world was awake and blinking in the bright light.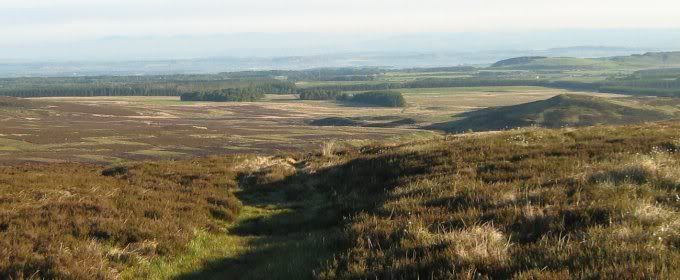 'The descent was gentle' - Downhill to the Firth of Forth
The Water of Leith Walkway led me towards the centre of Edinburgh on a wooded track busy with cyclists, runners and strollers. Near the city centre I took to the streets. The day was hot. By the time I reached Waverley Station my feet were sore. I deposited my pack and began the happy process of rehydrating. Phase I was over. It was time to ride home.
To be continued – next year, I hope!