Day 3 - Hadfield to Greenfield
16km, 10 hikers

Urban section to Tintwistle, Pennine Bridleway, moorland trail to Chew Reservoir, Ashway Gap and Yeoman Hey Reservoir, reservoir road and urban section to Greenfield.
Next morning, accompanied by workers on their Monday journeys, I rode back to Hadfield. I think of Hadfield as a "used-to-be" town, like neighbouring Glossop. Occasionally, when I linger in such places, an old codger (maybe even older than me) grabs his chance to tell me that here used to stand the world's biggest cotton mill, or the country's largest quarry, or the county's most productive underpants factory, or some similarly arcane snippet. He can rarely tell me what it's famous for now, only for what it used to be. Perhaps people are like that where you live. My birthplace was world-renowned for inventing and manufacturing printing machines, but it's now a commuter town. My nearest town today used to be famous for coal, steel, glass and engineering, but in 2009 its biggest employer is the Royal Mail. Hardly stirs the spirit, does it?
My plan was to walk to Marsden. I headed down past the stone terraces of the main street and up the hill to Tintwistle, where I crossed the A628 without pausing. I mention this only because whenever I travel along that trans-Pennine link it seems clogged with slow traffic, giving the impression of nose-to-tail queues both ways between Barnsley and Manchester. Despite that, I've never yet had to wait when crossing. Such contradictions meander through the otherwise empty spaces of my mind when I'm out on the hills. It makes a change from contemplating sheep.
I picked up the Pennine Bridleway and followed it for about a mile to a permissive path to Chew Reservoir, where I intended to reconnect with Gillham's route from Crowden. From the outset I felt tired. Two long days in the last three had drawn down my energy. The path soon disappeared in heather and tussocky grass, but I could see my target hilltop so I forced a way through, aiming for the point where I should cross Ogden Brook. There the elusive path reappeared, narrow but clearly defined. Usage had pushed it east, closer to the brook, which was probably the hikers' practical response to navigating in poor visibility. I celebrated with a ten-minute rest to air my walking tackle and eat a sandwich under the warm March sun. There wasn't a sound above the tinkling water, and yet I was, figuratively speaking, only a stone's throw from the edge of the Manchester conurbation.
After a short climb on a dry, informal path through the heather of Ormes Moor, I wove a devious route across a flat watershed, dodging the worst parts of an exceptionally glutinous peat bog aptly named on the map as "Wilderness". That was how a lot of our moorland walking used to feel before the advent of paving stones.
It was a relief to reach the craggy edge of the deep valley that cuts into the west-facing escarpment. I decided on another rest while I took in the view. The straight lines of the Chew dam to my right and the geometric curve of Dovestone Reservoir's embankment far below jarred with the rugged gritstone profiles and random tumbled boulders. As in Longdendale, Lancashire's demands for water and electricity have disfigured a spectacular natural landscape.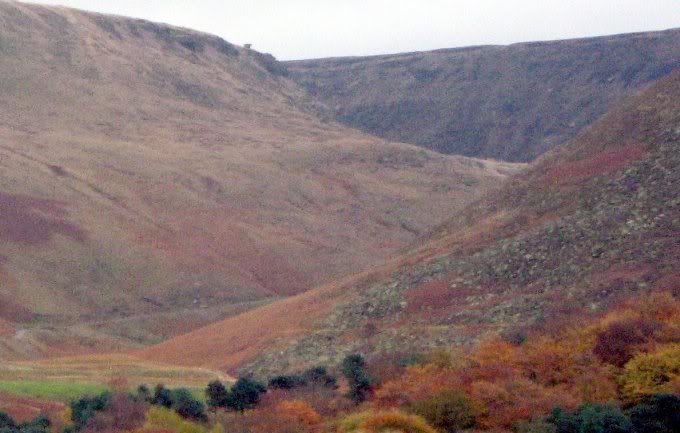 'Rugged gritstone profiles and random tumbled boulders' below Chew Reservoir
The peat was behind me, and walking on the gritstone edges was easy. The wind blew briskly, but still the sun shone. Conditions could hardly have been better, but I felt footsore and lethargic. I followed the stony path to Chew Reservoir, crossed the head of the valley, and stayed near the precipice as far as Ashway Gap. Mountain hares raced away into the tussocks and peat hags, their fleetness of foot mocking my plodding progress. A band of hikers trudged half a mile ahead of me. Far below on the reservoir tracks, strollers mooched with their pooches.
At Ashway Gap I was barely halfway through my planned day's walk, but the steep slopes of Alderman's Hill loomed across the deep valley. I knew I didn't have another climb in my legs. I descended to the reservoirs, crossed the Yeoman Hey dam and made my way alongside Dovestone Reservoir to the stony-faced streets of Greenfield. I caught the first of three trains back home. I'd have to come out again and complete the trek to Marsden.
The day had ended in disappointment, but only because of my physical incapacity. To take a different view, I'd engaged with the landscape and with my energy level, but the sensible compromise hadn't pleased me. I wondered whether I might have done better if I'd headed for Chew Reservoir via Crowden and Laddow Rocks on Gillham's route.
Interlude
I had a short break from walking and took stock. Day One was fine. Day Two was harder but satisfactory, the late drag down Longdendale tedious. Day Three was hard, and I hadn't done my miles. Was I strong enough for the challenges ahead? Could I carry camping gear up and down hill, day after day? Would my fitness improve, or would I have to give in to old age and wear and tear? There was no way of knowing. I'd have to suck it and see. The blisters under my right foot hardened, and after a few days I was ready again.