Day 4 - Greenfield to Marsden
16km, 7 hikers

Urban section to Dovestone Reservoir, moorland trail over Alderman's Hill, field paths to Diggle, Pennine Bridleway to Standedge, Pennine Way and moorland trail to Marsden.
Travelling home and back had become burdensome, so it was time for a two-day outing. I drove to Marsden with tent and sleeping bag in the car boot.
The train took me to Greenfield, and I retraced my steps past Dovestone Reservoir to climb Alderman's Hill. It was breezy and sunny as I strode happily along Gillham's route over the broad hilltop. This was hill-walking at its best, with good conditions underfoot and views down to Saddleworth.
When my way dropped from the moors onto field paths the direction was less obvious, but despite a couple of false trails I made fair progress. Spring flowers grew abundantly in the gardens of the prettified farms. Muddy gateways showed what a sticky section this would be after heavy rain. Dampness seemed to rise from the soil, and the views in the hill-girt basin were unexceptional. I was glad to reach the final climb on the Pennine Bridleway.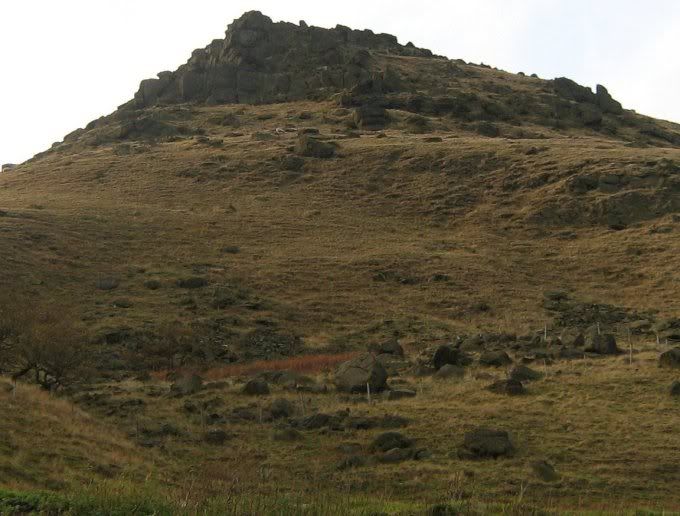 The steep ascent of Alderman's Hill
The sun shone on the A62 at Standedge summit. The occupants of vehicles in the car park looked shifty, but maybe I'd startled them, appearing from the bushes with a spiked pole in each fist. After a short rest I headed east along the bleak and soggy track of the southbound Pennine Way to join a downhill path to Marsden. I filled up on mugs of tea in a café where the women mopped the floor around me, implying none too subtly that closing time was nigh.
Having time on my hands, I strolled along the canal to the tunnel end, where staff were preparing for the Easter opening, and I decided that was enough for the day. I drove up the A62 to the Carriage House pub and campsite. It occupies the site of the Standedge transport café, which used to feed lorry drivers and peat-stained Pennine Wayfarers until the M62 captured most of the cross-Pennine trade in the early 1970s and forced its closure. The pub is now a handy stop-off for campers, and it opens in the evenings for Black Sheep, Boddingtons, draught cider and good food, including Turkish dishes.