Day 6 - Hebden Bridge to Bingley
22km, no hikers

Field paths and farm roads, with the village of Haworth in the middle.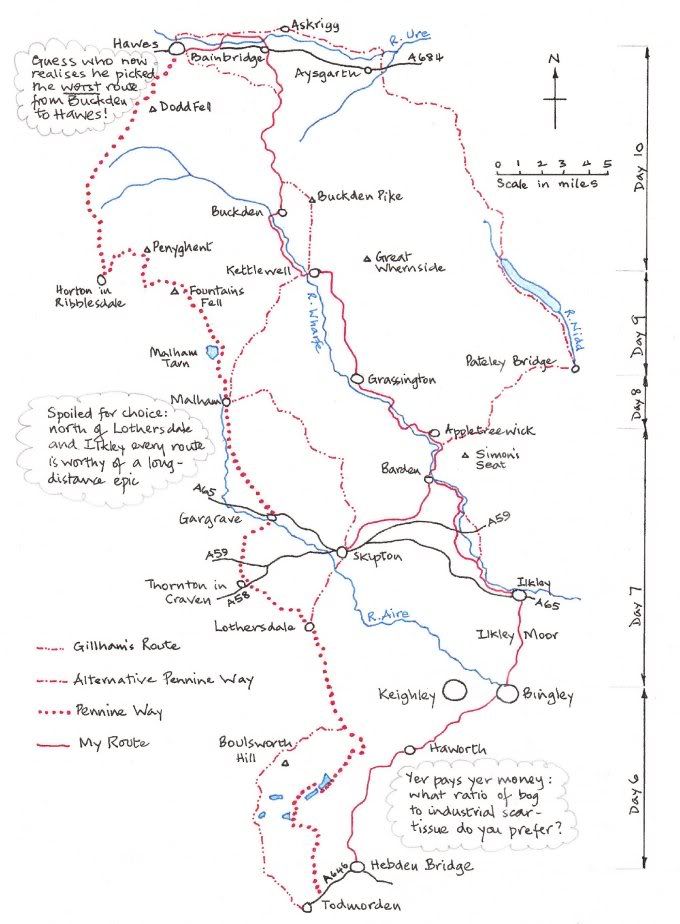 Map for days 6 to 10
After Easter I took an early drive to Haworth to sample a further day on the Alternative Pennine Way. I found another excellent cheap breakfast in a takeaway/café opposite the railway station, followed by a brilliant bus-ride through the confines of Oxenhope village and over the moor to Hebden Bridge.
My walk started beside the river that flows from the beauty spot of Hardcastle Crags, but I turned right into the tributary valley of Crimsworth Dean, one of Poet Laureate Ted Hughes's childhood playgrounds. A bridleway took me steadily uphill past increasingly derelict farm buildings and high onto the moors. The landscape looked hard-used by centuries of industrial exploitation. Abandoned quarries, spoil heaps and ruined buildings were being reclaimed slowly by nature, but disfiguring scar tissue remained.

'Gazing west from Penistone Hill over Stanbury'
The walk was easy and the navigation straightforward, though the views were not the finest. Gazing west from Penistone Hill over Stanbury and Ponden to the Pennine Way provided by far the most inviting panorama I saw all morning. Nevertheless I decided to stick with the 'Alternative' as far as Ilkley.
Haworth had filled with tourists since my early breakfast. After a pint of Timothy Taylor's Best Bitter at The Fleece I exchanged my boots for trainers to walk to Bingley. The path through stone-walled fields beyond Hainworth was almost non-existent, though elsewhere the broad unsurfaced tracks were easy if uninspiring. Striding out above the crowded valleys of the Worth and the Aire, I felt too close to industrial towns and main transport lines. I returned by bus to Keighley and then to Haworth, having ticked off another day. Unaccountably, I felt as stiff as a board, so instead of pitching the tent I went upmarket and found a hotel, where I soaked long in a hot bath and emerged fully revived.