Day 7 - Bingley to Appletreewick
26km, 20 hikers

Roads, field paths and moorland trail to Ilkley. Field paths to Appletreewick.
When I was about ten years old my school class went to Saltaire and the nearby Five Rise Locks on the Leeds-Liverpool Canal. We'd been learning about the Industrial Revolution, so we visited Sir Titus Salt's model village and the nearby staircase-to-the-sky for canal boats. I'd never seen anything that impressive. I think Mr Barritt, the teacher, was pretty thrilled too: it was the first trip I'd completed without being sick in the bus.
My walk began at Bingley, which merges with Saltaire, and climbed the valley side. The hike over Ilkley Moor is an old favourite from my teenage years. We used to walk from Otley to Menston, where we followed what was then a quiet lane around the edge of the moor to a pub named The Fleece but generally known as Dick Hudson's. There the path over the moor began. It was a great step into the unknown for us when we first found our way across. A couple of years later three of us made it over in driving snow and really felt we'd achieved something special.
My walk took a parallel route. It was straightforward enough, and I was in Ilkley for an early lunch. From there both the Dales Way and the 'Alternative' led to Bolton Abbey, whence Brook and Hinchliffe head for Nidderdale whilst the Dales Way continues up Wharfedale.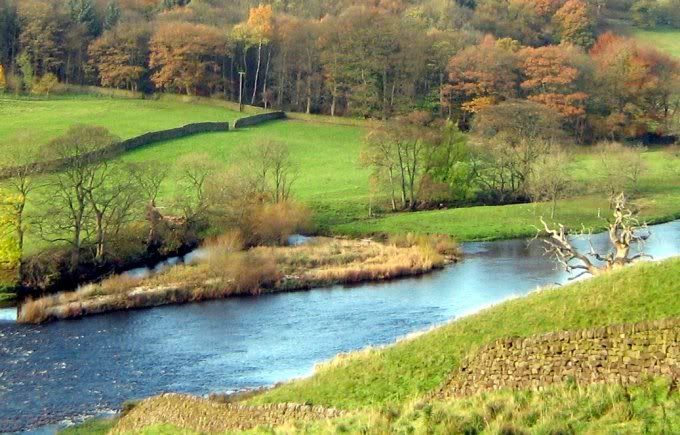 River Wharfe between Appletreewick and Barden Tower
For me the choice was ingrained: I couldn't resist revisiting my favourite places in Wharfedale. The valley path upstream of Bolton Abbey is idyllic and prompts more than half a century of memories. At Mason's campsite in Appletreewick I pitched my tent, and in the Craven Arms I enjoyed excellent food and a wide selection of real ales.