Day 8 - Skipton to Grassington
24km, 30 hikers

Field paths beside the River Wharfe, moorland trail and field paths elsewhere.
Attentive readers will wonder why the title for this day doesn't start at Appletreewick, where the last one ended. Read on, and things should become clear. My day was diverse and exploratory: I wanted to check out a couple of alternatives.
I left the tent pitched at Appletreewick and set off at six o'clock, retracing my steps down the valley to Barden Tower. This is a ruined hunting lodge, one of the properties owned in the seventeenth century by the redoubtable Lady Anne Clifford, in whose memory Sheila Gordon devised a walk from Skipton to Penrith. I wanted to try the first few miles because they look like a handy link with Gillham's route from the Pennine Way at Lothersdale to Skipton.
The weather was cold and windy with a grey damp air on the hills. My route climbed from Barden on a faint path which vanished at the top of the moor. I descended to Halton East through fields, spotting stiles and gates for guidance, and continued in similar vein to Eastby and Embsay. If one had to – and in boggy conditions it would be a sound decision – one could avoid the rarely-walked and cattle-poached fields between Halton East and Eastby by taking to the road.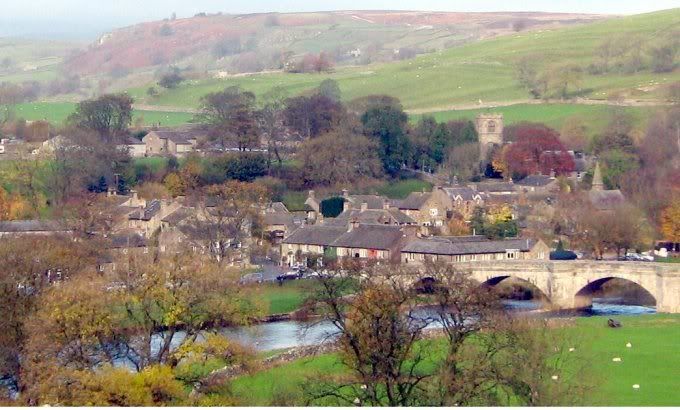 Burnsall, Wharfedale
I reached Skipton at half past nine and ate a substantial breakfast. After absorbing the town's delights, I travelled by bus to Grassington to revisit the justifiably popular walk down the valley past Burnsall to my tent. But I wasn't comfortable: it was time to go home and sort out feet and boots before starting the more serious stuff.