Day 9 - Grassington to Kettlewell
11km, 5 hikers

Paths over limestone pasture.
'Single to Threshfield crossroads, please.'
'I 'ope tha knaws t' way, cos it's t' first time I've done this route.'
(Excerpt from conversation with bus driver at Skipton Rail Station.)
In the warmth of a sunny Sunday evening, my heavy old boots stepped off the last up-valley bus and ambled into Grassington's cobbled centre. Most of the day visitors had gone, but outside the pubs drinkers and diners were still enjoying the spring evening. I strolled round the square, swallowed a pint of Black Sheep, bought a pork pie and an apple pie from a disgruntled little man in the mini-market, and set off along the Dales Way.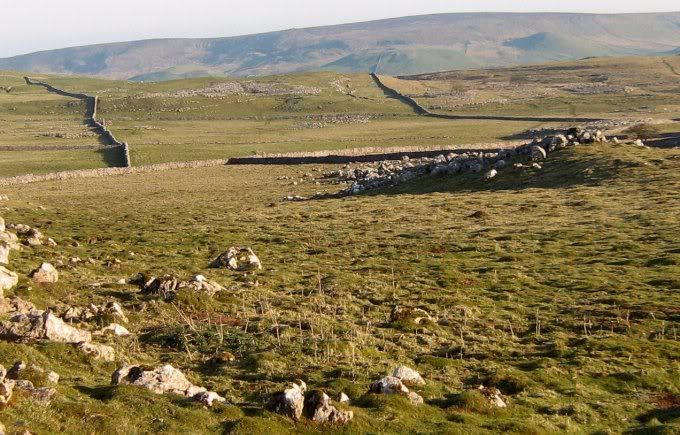 'Crossing limestone walls and lichened outcrops'
Apart from a few late returners walking into town, I had the trail to myself. It was a sunlit way on short grass, crossing limestone walls and lichened outcrops, past bleating sheep and rabbits by the sackful, beneath rising curlew and wheeling lapwing. This glorious, easy, high-level walk took me to Kettlewell by eight o'clock, and I pitched the tent at Fold Farm, alone in a sloping field.
In the Bluebell I enjoyed a pint of Copper Dragon and a couple of malt whiskies, chatting with Matwey, a half-Georgian who lived locally, and his wife Diane who worked behind the bar. A throng of folks pitched into the Sunday quiz, which was run by a severe woman with a sore throat. I left before the competition ended, walking back beneath a sky of stars, and I fell asleep to the sound of owls conversing in the trees.