Cutthorpe to Cape Wrath
Phase 1 - Conception
It was conceived in winter, the season of long-walk dreaming.
'What's your next venture?' she asked.
'Mmm, not sure. Maybe walk to John o' Groat's.'
'What, from Land's End?'
'Nah, I've done Land's End to Minehead, and I don't fancy trudging from there to here. I'll start here and go up the Pennines.'
'Pennine Way again?'
'No. Well, maybe a bit. Mainly other paths. There's the Alternative Pennine Way, then there's the Pennine Bridleway, and there's a route that a chap called John Gillham published a few years ago. But there's plenty of other footpaths. I can make my own route up. I mean, something new. I've already done the West Highland Way, back in 2001, so I'll go through the Cairngorms, 'cos I've never done the Lairig Ghru, and then when I get to John o' Groat's I wouldn't mind turning west to Cape Wrath.'
'Cutthorpe to Cape Wrath. Sounds good.'
It did indeed sound good.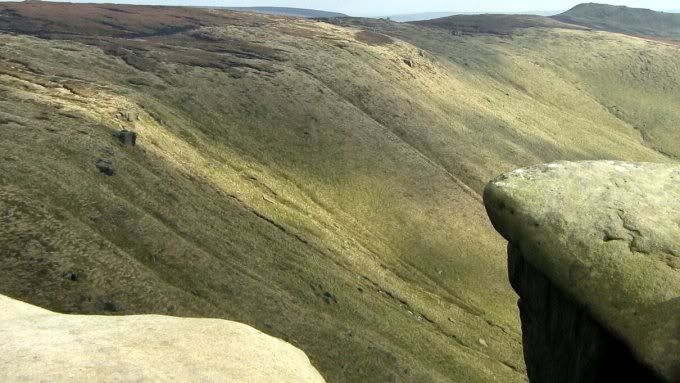 The south edge of Kinder Scout from Crowden Tower