Cutthorpe to Cape Wrath
Phase 2 - Gestation: Engaging With The Landscape
In the real world, snow blew along the road, but inside my head I was already striding effortlessly through stunning scenery in perfect weather. That's how it would feel, stepping out into the Dark Peak to head north. That prospect always draws me.
In leaps and bounds of self delusion, I dismissed as mere formality the march from Cutthorpe to John o' Groat's, fantasising instead about a side-trip to the Northern Isles and a carefree cliff-top hike into a light Atlantic breeze along the north coast of Scotland. From Cape Wrath, which is accessible only on foot, I'd have no choice but to walk on. I'd then march southwards between the Hebrides and the Highlands until I felt ready to ride home.
That's the power of a vision. It lures you ever further from the reality of your starting point, and as you strive to reach your goal you stumble over obstacles that, in retrospect, were all too foreseeable but which you blithely ignored as you raised your starry-eyed gaze onto a higher plane.
Since my childhood I've had an urge to travel, to be somewhere else. Back in the nineteen-fifties my ambitions were limited. I didn't leave Yorkshire until I was ten, and then only on a day trip by train to the Scout Jamboree in the West Midlands. I was prone to travel sickness, but somehow I latched onto the idea that the life of a long-distance lorry driver hauling goods to Scotland would be pretty exciting.
Other lads wanted to drive a fire engine or a steam train, but I fancied the independence of life in the cab of a truck. I suppose the fire engine would have been thrilling for a few minutes once in a while, ringing the bell as we screeched round a corner, but in truth I was a quiet child. The steam train would be forever constrained by fixed rails and signals, so I couldn't see much appeal. A lorry driver, however, would take sole responsibility for his delivery. I imagined myself as a man wrapped in an overcoat, hunched over a steering wheel, staring grimly through a divided windscreen, battling in all weathers to complete my task while leaving a trail of noxious fumes in my wake. Now I come to think of it, apart from the steering wheel that describes almost perfectly the journey of a long-distance walker in spectacles.
When planning my expedition more than fifty years later, I intended to haul as few goods as possible to Scotland using muscle power alone. I can't carry a heavy pack nowadays, but I still enjoy the physical pleasure of a long walk. Admittedly I struggle more often than I used to, usually when I'm pushing too hard up a hill, but I've learned to live with that minor inconvenience.
I read the e-journals and printed books of End-to-Enders, and I worked out a few alternative routes between Cutthorpe and John o' Groat's. There's an unsurpassable wealth of options. Britain's network of public footpaths and its policies for access to the countryside are among its finest contemporary attributes. If anybody wants to tell me those features could be better – and they could – I'd like them to quote chapter and verse on where in the world they actually are better.
Faced with an overwhelming range of choice, I pondered day in and day out which way to go. As my narrative will show, I continued to ponder when I was on the trail. Each route to John o' Groat's had its unique attractions. Each would take me around six weeks. That raised a fundamental question: Did I want to be away so long?
I quickly decided the answer was "No". There were things I didn't want to miss: family gatherings, rugby matches, the village carnival, a biennial reunion of friends from my youth, and dominos on Fridays. Furthermore, Julia and I had decided we would be reconfiguring our domestic arrangements during the summer. All right, I thought, I'll come home for what matters most. While I'm here I'll weed the vegetable patch, and then I'll go back and carry on. I'll make it easy on myself.
A walk of several hundred miles can't ever be easy, but I saw no point in wearing myself out. That's why I decided the theme of this walk would be 'Engaging with the Landscape'. Thus if I felt like sleeping in the heather at midday, I'd do so. If forced to walk slower or curtail a day's plan, I'd try not to grow annoyed or frustrated. On the other hand, if I were going well and could manage a few more miles, I'd continue walking. I wouldn't make advance bookings, because that would preclude spontaneity. I'd engage mind and body with the landscape and, of course, with the weather.
No sooner had I reached that compromise in my head than my body began reminding me it had clocked up nearly sixty-three years' service. A nagging ache developed in the right hip, and I feared deterioration of the joint. Happily for me, a sports physiotherapist diagnosed piriformis muscle syndrome, and after a couple of treatments from him and a programme of stretching I was back on form. I bought a pair of lightweight boots to reduce the strain on my system – yes, I know, I could have shed a few pounds of body fat instead - and I returned from trial hikes more or less unscathed. Suddenly I was without excuses. The clocks would soon move forward. It was time to roll.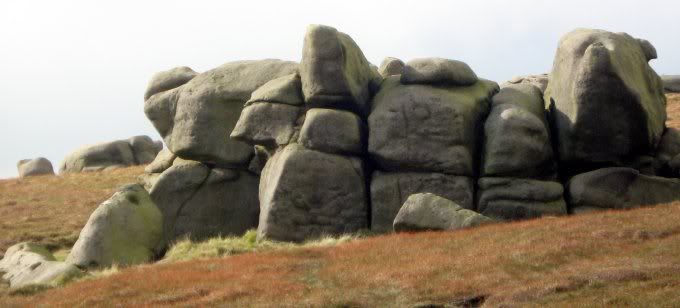 On the south edge of Kinder Scout